2020 Monthly Updates
September 2020
Medley Pairs League
Due to COVID restrictions at the beginning of the season when we were unable to play our normal competitions, the idea of a Medley Pairs League was hatched. This has been played throughout the summer as a one-off for this year but has proved to be very popular. Having played all their games, the eventual winners of each League played a final to establish an overall winner. At the beginning of the season we would not have expected our two winning pairs to be relatively new bowlers to the game but they have all played with a consistency and competitiveness which was definitely brought through to the final. Harvey Bernstein and Dave Cotter played Adrian and Adele Smith in a thrilling final where the lead changed constantly throughout the game. The eventual winners were Harvey Bernstein and Dave Cotter who won 12 – 11. Many congratulations to Harvey and Dave but also to all four players for ending the competition with a worthy game.
Sept 22 Ladies 2 Woods Single Day
Our usual roll up was replaced by a 2wood single tournament.
Nearly all members (experienced and new ) joined in and a happy few hours were devoted to the game of bowling.
Two games of 9 end were played (with breaks for refreshments), the top two earning most points being Anne Godfrey and Rita Ager who then played another 9ends with Anne coming out as the magnificent trophy winner.
A great deal of happy competition was enjoyed by our lady members .
Thank you all for supporting and helping to make this such a pleasant day.
Helen Maloney (Captain)
Sept 12 Caribbean Crown Green event
As you can see from Brian's pictures what a successful enjoyable day we had.
The bowling was great fun and quite competitive with no collisions, well not many.
Sue Sargeant emerging as the overall winner.
President Annette presented her with the pineapple trophy, hope she keeps it in good condition for next years game.
Captain Colin and his sous chefs dished up some tasty burgers and sausages, whilst obeying all social distancing requirements .
At the end of the day we all enjoyed a well deserved cornetto whilst the presentations took place .
Firstly David Cotter recieved his spider prize of a bottle of wine.
The 50/50 Winners were declared
1st. Prize Terry Larner
2nd Prize Adrian Smith
3rd. Price. Pat Veitch
The final presentation of the day was the presentation of the COVID CUP (we hope this will not be played for next year), which was donated by Captains Helen and Colin. This cup was won by the winners overall of the Covid league 2020 and they were Skip David Cotter and Lead Harvey Bernstein, both new bowlers to the club - well done you two.
Thanks to all those who played, spectated, and organised this day. Another happy occasion to add to this year .
Stay safe and keep up your bowling.
Captains Helen and Colin
July 2020
July 30 Medley Pairs League Update
In lieu of our normal Club, County and National competitions, the Club have started a Medley Pairs League for this summer season. We have had some 14 teams wanting to take part so have divided the teams into 2 Leagues to ensure we are able to finish well before the end of the season. The last week will see League 1 playing League 2 to find the overall winner. The Leagues have so far produced some very good games with interesting results and is proving quite popular with all those taking part.
Colin and Sue Sargeant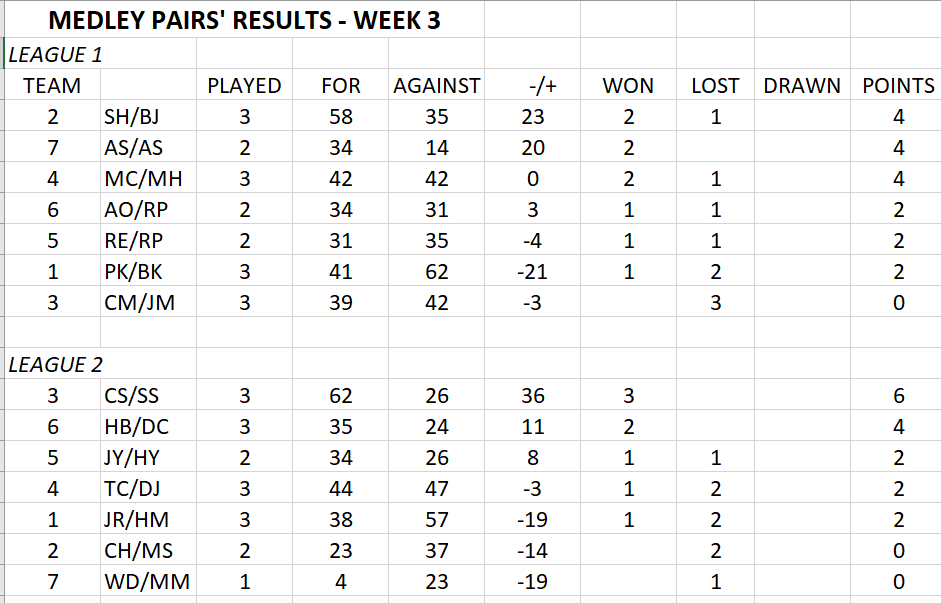 July 7 Ladies Morning
The first of the Tuesday morning sessions was well attended and enjoyed by all players.
Thank you ladies all of you for making it such an enjoyable morning, and to Brian Johnson and Carol for taking our photos .
I hope you will all remember this is now a regular Tuesday morning session and hope to see you all as often as possible.
Helen M Ladies Captain
May 2020
We have opened for business though not in our usual manner but in a much subdued and unusual way though you wouldn't think it subdued if you have seen some of the sessions.
Our President Annette has cast her first woods as in the normal tradition and enjoyed her subsequent practice session.
These sessions are only to give you a chance to reconnect with our sport and partake of some pleasurable outside activity - what could be a better way to spend a summer's afternoon.
We hope that those of you who book bowling sessions will feel safe in our arrangements we have made. Here is a picture of the equipment box arrangement which we hope you will get used to very quickly.
Colin and Sue Sargeant hold the rink book so please phone or text them to book a rink. Phone numbers are: 01206 386010 or 07512 423897. Please give 24 hours notice so they can arrange to unlock and put out the boxes as the Clubhouse is still temporarily closed.
This has been a very frightening and unknown experience for us all but we hope you will enjoy a few happy hours and hope we can all safely meet again soon.

Helen and Colin and Sue who did all the paper work