2019 WMBC at 'Potters'
Two teams from West Mersea travelled to Potters in North Norfolk to join up with no less than 90 other teams from around the UK taking part in a national annual competition in the arena used for the World Bowls Championships. Keeping a keen eye on all the competitors was Potters resident ambassador Greg Harlow. Greg reached the final of the 2017 World Championships held at Potters and as a result he attained the coveted World number one slot which he retained throughout the 2018 season. He currently holds the number two slot in the world ratings and he takes a very keen interest in the Potters amateur competition offering advice and presenting prizes to all of the competing and winning Clubs.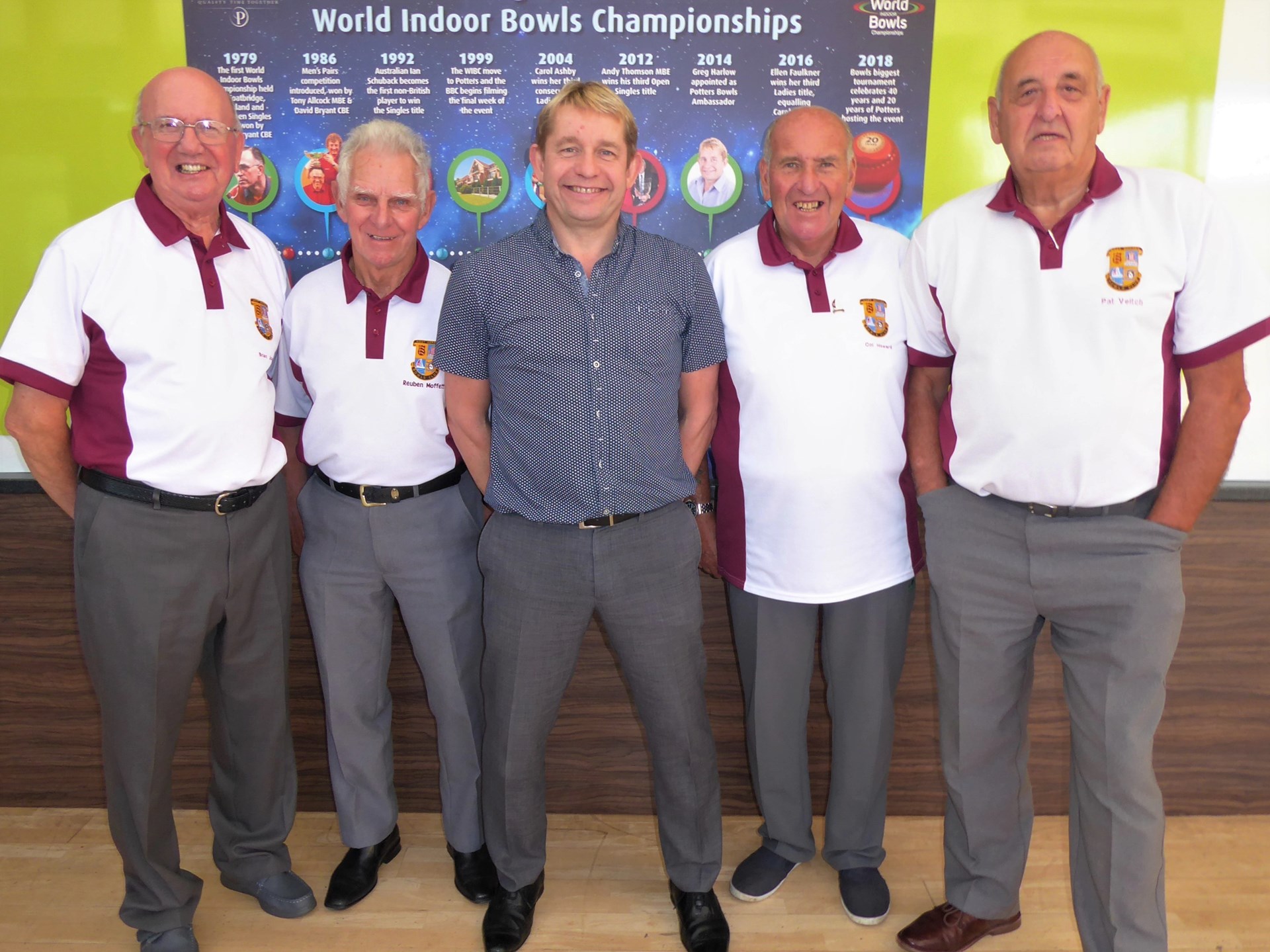 One of the West Mersea teams consisting of members Colin Howard, Reuben Moffett, Brian Johnson and skip Pat Veitch sailed through the early rounds winning three of their four games against Martlesham, Hatfield and Stamford to qualify easily for entry into the knockout section at the quarter final stage with a positive shot difference of 20 shots.
The quarter final against another team from Stamford saw West Mersea get off to a poor start losing all of the first three ends before they recovered well to enter the final end all square. The lead in the final end changed on three occasions before Stamford eventually won by one shot with victory being in doubt until the very last bowl of the game.
Although very disappointed skip Pat Veitch praised his team for doing so well in the competition when the standard of bowling is excellent and to reach the last sixteen from a total of 92 teams is very good indeed. It is difficult to perform to your full potential when being watched by a substantial and vociferous audience and in the circumstances everyone performed extremely well.
West Mersea's other team did not perform so well in their first appearance at the competition but enjoyed their visit and learned lessons that will be to their advantage next time.
Hopefully the result will lead to West Mersea being invited to enter two teams next year.
Report written by Brian Johnson