West Mersea Bowls Club
Monthly Updates
Monthly Roundup for February 2020
Ladies Captains v Secretaries – 13th February 2020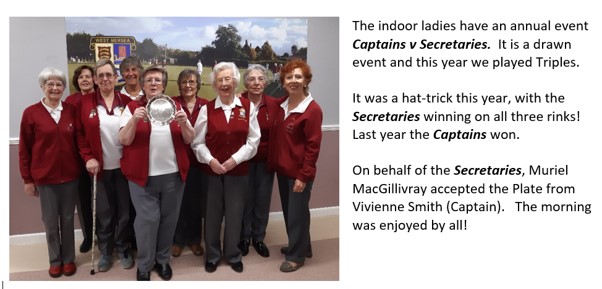 Report by Sue Howard
Mens Over 60's Inter-Club County League - 3rd February 2020
In a season where 'good results' in the County League/Competitions are somewhat thin on the ground, it makes it all the more pleasing to report on a successful match in the Over 60's A-League against Walton (on-the-Naze). Our single rink at home, comprising Malcolm Cameron, Jack Crowhurst, Graham Brookes and Bob Biffin, produced a fighting performance to come back from a 3-12 deficit, after 9 ends, to achieve a more-than-creditable 16-16 draw, made all the more remarkable due to the fact that they won the last 4 ends with a single shot on each end. Add this feat to the victory, by 12 shots, of our away team - David Jones, Brian King, Steve Warner and Barrie Clements, and this makes the resulting overall match score of 5-1 in our favour, all the more pleasing.
Report by Steve Warner
Ladies County League, Jacks Centre v West Mersea
West Mersea ladies had a really enjoyable win at home with a score of 19 against 18
The home team consisted of Rosie Bird, Jean Lewis, Muriel MacGillivray and Skip Sandra Cairns.
The ladies playing at Jacks unfortunately lost but put up a brave fight.
Our next County League game will be played on Tuesday 2th March. Good luck ladies.
Report by Jean Lewis
Essex Coastal New Bowlers Trophy - 2nd February 2020
****************************************
Monthly Roundup for January 2020
New Year's Drive - 19th January 2020
The first extra event of the year was a resounding success.
The drive was organised by the 2 Daves with their usual flair and efficiency. Thank you to them both.
The winners being Rosie Bird, Gwen House, Sue Conway and Viv Smith.
This was followed by a roast dinner prepared by Sue and Colin and their helpers and delicious it was too.
Richard Parker won the bottle of Prosecco.
34 members played and 47 sat down to dinner A happy friendly atmosphere was created by all concerned.
Well done and a big thank you to all who organised and to those who supported this club event. As one of our members remarked, it was so much more fun than staying at home with his usual bowl of soup and he looked forward to the next one as we all do.
Report written by Helen Maloney
Monthly Roundup for December 2019
Hong Kong Pairs - 8th December 2019
The annual Hong Kong Pairs indoor competition was arranged for Sat 8th Nov
24 players spent the afternoon competing in this round robin match
After a long afternoon of competition the final round was battled out between the Barretts and the Conways
Sue and Dave Conway being the victors
They were presented with the generous prizes donated by Mario and Nessa Zammitt Who also helped to run this afternoon our thanks to them both and to Dave Conway
A quiz was also presented for members , the bar was open and tea coffee and assorted refreshments were on hand
Thank you all who organised , helped with and participated in this afternoon
Report written by Helen Maloney